Check out the "Editor's Choice" review we received from 10-4 Magazine. You can read the article here.
Just a short note to say thanks again for such a high quality smoker. I must admit, I was a little skeptical making such a large purchase over the internet. However, after we spoke, I knew you were the man to build my smoker. I used it to smoke nearly a ton of ribs and over a half ton of pork shoulders at my concession during our recent New England fair, the Big E. The smoker arrived on time and exactly with the custom specification we had discussed on the phone. Performance was unsurpassed. The center mount firebox provided the main smoking chamber with perfect even temperature and was easy to adjust. The four racks inside made smoking a large volume of ribs and pork very easy. I know this unit will provide me with many years of productive service.Thanks again for such a smooth process.
Regards,
Glen B.
Camcourt LLC
Hey Chad,
I was going to contact you a while a go but we have been so busy since I got back. I wanted to tell you that the BBQ is awesome. It cooks evenly and all the products so far have had great flavor. It is built tough too, with all the trips around, California it is solid like a rock.
Thanks,
Ross at Kilkennykitchen.com
Interested Buyer, I would highly recommend investing in a Johnson Smoker because over the last 2 years I have had zero problems or complaints from our clients/ customers and everyone comes to me for their events. I haven't even had to spend a cent on advertisement – it is all word of mouth. Working with Chad when picking up the trailer he was so Professional and took his time explaining every feature and trick for the best ways to use the Smoker. Thanks to Chad I can keep the vertical barrel and the two horizontal barrels within 2% of each other and usually closer than that. I really like the Reverse flow system because I never have Hotspots which to me is less times I have to open the doors letting heat out to move the food around to keep it from being over cooked. Chad even helped us with a wiring issue when we were ready to leave (Wiring issue was on my truck not the Smoker). When my Son and I left to head back to Northglenn CO we both knew it was a great product and Chad and Johnson Smokers will always stand behind any Smoker they build because they know it is a Great Smoker. A funny story about the trip home we were pulling out of a gas station in Oklahoma and we got pulled over by a City Cop and a State Trooper not for doing anything wrong. They both loved the Smoker and sat behind us with their lights flashing for about 30 minutes while checking out every square inch and couldn't believe the High Quality and Craftsmanship. They both asked where I bought it and I told the Johnson Smokers in Ennis TX. No ticket and everyone was Happy!!! We have worked multiple events from Weddings, Graduations, Thanksgiving, Super bowl parties and Birthday parties and a little care cleaning up the Smoker after each event it looks as good as the day we bought it!!! 5+ Texas size Stars!!!!! Good Luck Smoking with your new Johnson Smoker!!!
Thank you,
Marvin P.
Chad,
Thought I would take a few minutes to thank you for your help and design of our 2D Adv. Smoker/Grill. Your product is one of the best constructed of its type that I have seen and cooked on. I attend many local cook-off here in Central Arkansas and you would not believe the attention it gets. The reverse flow system blows every one's mind seeing the two stacks on the same end as the fire box. That gives me a great "in" to explain your system. Like any new equipment there is always a learning curve but this one is the easiest I have cooked on out of the shut. Smoking is a breeze and in just a few minutes you can be grilling steaks, burgers, dogs, etc. with the charcoal trays. We/I have won chicken, ribs and placed high in pork in many of the Arkansas area events. It towed great with my Suburban and after just now changing vehicles to a Lexus RX400h very little difference. The smoker was purchase by the bank but it is my baby and after having it lettered up I have to say, "it really looks good". Thanks for the custom BancorpSouth green color.
I think I have sold at least one off ours for you. 😀
Again thank you for producing a great product,
Sincerely,
Kent T. Goff, Vice President
John K.
My new Rolling Patio Johnson Smoker. I used it for the first time and only smoked a couple slabs of ribs and some burgers to take it for a test drive. I started with charcoal and used oak wood. The temperature I kept it was 225. This smoker maintained the temp throughout the day and I was really impressed with that. The best part was when my guests arrived and they stared eating. I heard so many comments on how good the ribs were. The ribs were falling off the bone. I can't wait until next weekend because I want to do a pork butt and brisket. When I first ordered this I knew it was going to take some time but as far as I am concerned it was well worth the wait and the cost of this smoker. Excellent craftsmanship,
THANKS Chad and Crew.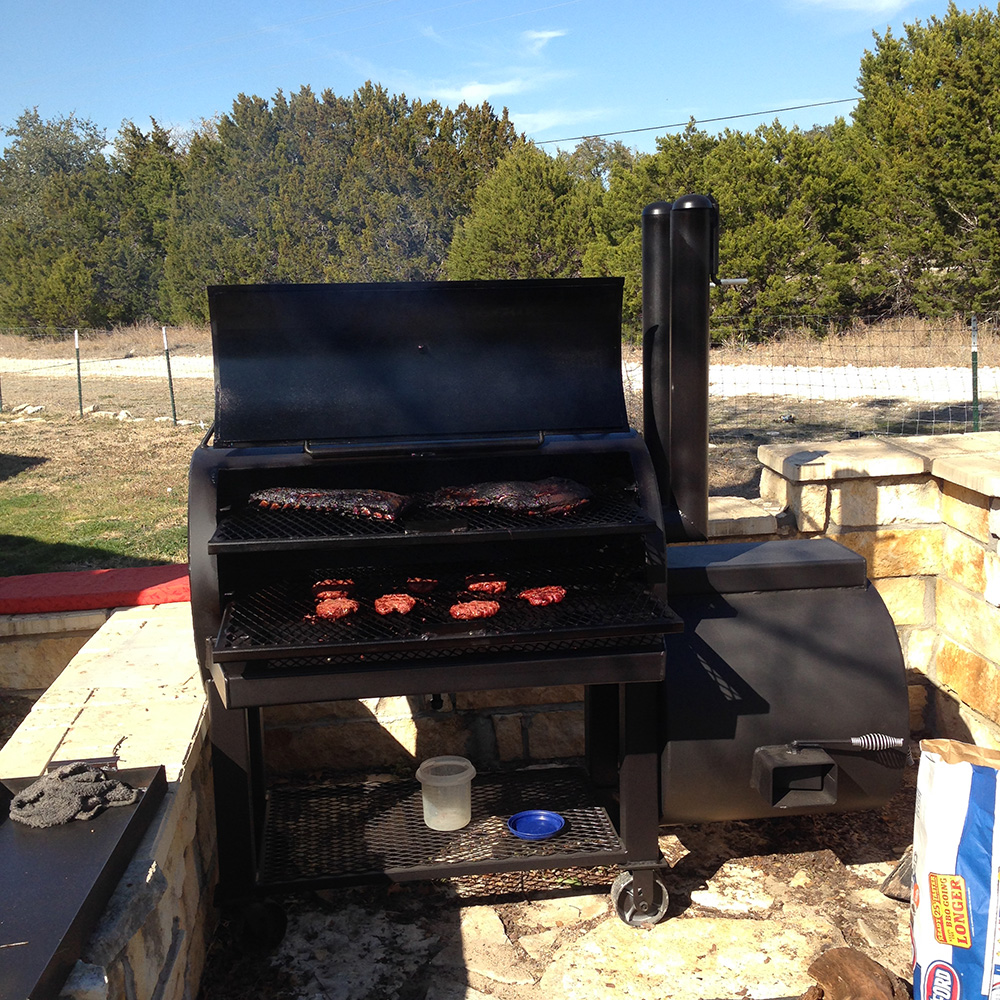 Hello Chad
Here are a few photos of some events we did since getting the smoker you build for us. All 4 wheels have brakes and well she weighs 6452 lbs empty ..she is heavy. The ford pulls it pretty good but I know she is back there! I put the leveling trailer bars on it and it ride good. With all the bumps in the road she is doing us well, just wish I had more hours in a day…but you know about that. Hope your doing well and life is treating you great!
Talk to you soon …. take care.
Sincerely,
Mike Kubecki's Catering.
Pennsylvania