Sink Systems: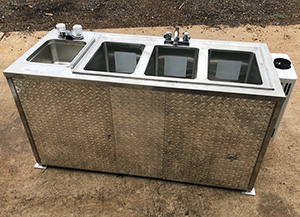 Health codes vary from state to state so we decided to just build a "one size catch all" unit that can accommodate you wherever you are located. The sink can be built with a single bowl, double, triple, or triple with hand wash. It is totally independent of outside electricity and water. The unit runs of an included 12v battery which powers an on demand pump. Included on demand propane hot water heater runs the entire setup for never-ending hot water. Simply fill the clean water tank at home with a faucet and the unit is ready to work anywhere you are. All dirty water is caught in a larger grey water tank with a drain for proper disposal. The sink is housed in a plate steel box and can be housed anywhere on your trailer. The basic size of the box is 4ft long by 2ft wide.
Overland Package: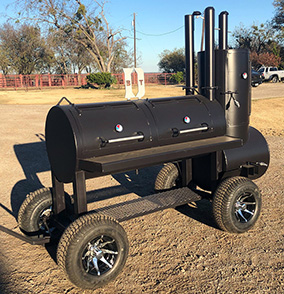 For those of you who want to take their patio smoker to a competition, park, or cookout and don't have the space for a dedicated trailer, upgrade to our new off-road package on your smoker. We will offer the package at a base price with takeoff wheels from a golf cart, or go all out with new chrome spoke wheels. Give us a call or email with the particular model you like from us and we can spot quote you on the model. Roughly figure around $595 for the full setup with the standard wheels to give an idea.
Gas Burner Setups:
Many years ago we used to build our trailers with complete gas burner setups welded directly on the trailer like most other manufactures offer. Custom burner setups like this often start at $500 and quickly go up. In our opinion there are better and more cost efficient ways to go. 3 Problems: The problem with permanent burner setups is although they do work well at the start, they are open to the outside elements and over time will deteriorate and cause issues. Everyone that's had a gas burner before knows what we're talking about. Secondly, we also feel that the burner setups tend to take up much needed space on the trailer for storage and other uses. Thirdly, burner setups tend to be outgrown at times, or simply need to be replaced over the years with the next best thing. We can build custom permanent gas burners on our trailers but would highly recommend you buy and use portable units with adjustable legs. This way you kill off these 3 problems. Store the burner setups in our enclosed storage boxes to keep them out of the elements and in good working order, and either use the units next to your trailer on legs, or let us just build you a low sided expanded metal rack to drop the unit in on the trailer when you want to use it. When you're done, pack it up and store it in the enclosed box. And, some day when you need a bigger or better unit, you don't have to worry with cutting up your trailer to replace the one you might get stuck with if it's permanent.
Stainless Cooking Racks:
We can change over the standard steel racks for stainless on request. We will quote you a stainless upgrade per the smoker. We buy stainless in bulk and will pass along the savings.
Insulated Fireboxes: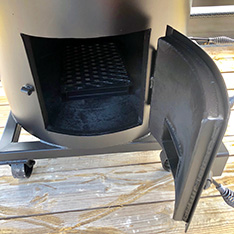 Contact us for information on our insulated fireboxes as well as pricing. Typically for our insulated fireboxes we use a thick double wall such as 1/4″ steel on both the inside and outside layer with a 2″ thick insulated void in between the two layers. We also insulate are firebox doors the same way so your complete firebox is covered. Insulated fireboxes are a good upgrade but are not a cheap endeavor. The "option B" for most is to hit somewhat a middle of the road and instead of doing an insulated firebox, just make the firebox out of thicker steel such as 3/8″-1/2″ plate. This option is cheaper than a full insulated double walled unit, but it still gives the smoker really good retention and overall firebox durability for a lifetime of cooking.
Firebox Log Starters:
We can install a simple log starter in the firebox but also feel that like the gas burner setups above, there are better options. Anything permanently fixed in the firebox will give trouble over time. We highly recommend our customers invest in a $20-50 propane wand or prickly pear burner that you simply hook up to a bottle, pull the trigger and light your wood then store the unit for later use. They will last forever and can be found on eBay, northern tool or most outdoor supply stores. They go by names such as propane torch wands, prickly pear burners, weed burners, and Ice/snow melters.
Stainless Work Tops:
Anywhere on the trailer we can install a simply stainless prep top for working on. Lots of times it is convenient to put a stainless top on our enclosed storage boxes or have us put a lid on one of our wood racks that is made on stainless to work on.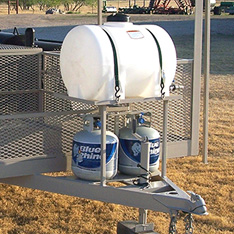 Water Storage:
See photo for a simply cost efficient way to store water on the trailer. We can setup the trailer with a 35gal tote on the front where you waste no space and can gravity feed back to your sink or wherever needed.
Propane Bottle Holders:
See photo for a dual propane bottle holder made onto the tongue of the trailers.
The options just keep on going, please send us an email or call for other options, we work with each customer individually to set up the trailer they need.